News Flash! News Flash! News Flash!
THE GREAT UNVEILING
On 
Sat. October 13, 2018 @11am
, there will be the official 
UNVEILING
 of four lane ways, named to commemorate the 
BLOOM ON THE BEACH
 Odyssey that has taken place in the Beach every Bloomsday since 1992. 
A few years ago,
Beach Councillor Mary Margaret McMahon
was instrumental in establishing the 
Peggy Delaney Way
 in the Beach. This year, because of the initiative of Peggy's son, Rory O'Shea, and the Councillor's political savvy, the City ratified the naming of four lane ways – 
BLOOMSDAY WAY;  SANDYCOVE WAY
LIFFEY WAY;  STEPHEN'S GREEN WAY
They will run eastwards from
Peggy Delaney Way
from Leuty Ave to Glen Manor Drive. 
Councillor McMahon
will join us for the Unveiling.
His Excellency Jim Kelly
, the Irish Ambassador to Canada, has been invited as Guest of Honour. 
These lane ways, especially with the addition of murals planned for a later date, will be a permanent reminder of how on
June 16th
for the past 26 years, the Beach has been transformed into Dublin for the day.
On
Oct. 13th
while celebrating the 
UNVEILING
, we'll also acknowledge those who have kept the 
Toronto Bloomsday Festival
 flame aglow since
1986
: the performers & musicians; our loyal Bloomsday supporters; and, of course, the sponsors and donors who've kept the
Floozie in the Jacuzzi
afloat with such generous support over the decades. 
****************************
10.30am
: Meet at
Peggy Delaney Way Mural
– one block south of Queen at Lee Ave.
11am
:
The Great Unveiling
12noon
: Reception & Entertainment at
GASTRO PUB
, 1987 Queen E (west of Kew Gdns)
Hope to see you there in festive attire!
For further information
:
Mary Durkan – durkanmary1@gmail.com
Richard Harte – richardharte@rogers.com
Rory O'Shea - rory@imedge.ca
****************************


ReJoyce!

It's Our 33th Annual Bloomsday Celebration

Saturday June 16,



The 33th Annual Toronto Bloomsday Festival will be celebrated in the ritualistic manner to which you've become accustomed. Please join us on Sat. JUNE 16th when Toronto will join cities around the world, from Beijing to San Francisco, celebrating this unique Literary Holyday.
The TORONTO BLOOMSDAY FESTIVAL, produced by Anna Livia Productions has been described by film maker Fritzi Hortstman (director of Joyce to the World), as "glorious...wonderful...with amazing actors....in the top two Bloomsday celebrations anywhere."
A KEW GARDENS ODYSSEY
BLOOMSDAY


SAT. JUNE 16,
If it's raining heavily on June 16th, please proceed to the Gathering Space at the BEACHES LIBRARY, 2161 Queen St East @ Lee Ave for a 10am start

For up-to-the-minute location information, please phone 416.778.8203
BLOOM ON THE BEACH(ES) FREE EVENT
9.00am – 12noon
A re-creation of Dublin 1904 with dramatized

ULYSSES

readings and musical accompaniment
PLEASE NOTE
the new Assembly Point and Starting Time
9.00am
: Assembly at
BEACHES LIBRARY
, 2161 Queen St. E @ Lee Ave.
9.00am – 11.00am
: Readings along Boardwalk, Park & Bandstand
11.00am – Noon
: Readings & music at Beaches Library, 2161 Queen E. @ Lee Ave. (416.393.7703)
SEATING at the Library is on a first-come basis
Late arrivals please phone the Bloomsday cellphone 416.778.8203 for up-to-the-minute location, or follow the blue & white balloons and the fiddle music.
BLOOMSDAY BRUNCH
Noon – 2.00pm

The Gastro Pub, 1987 Queen E. (Just west of Kew Gdns)
647.222.1275
The Gastro Pub
Our Davy Byrne's with great food, music, readings, a fun
Ulysses
quiz, singalong & merriment.
CLAIRE'S BENCH
2.30pm

Join us at Claire's Bench on the Boardwalk to commemorate some dear friends of Bloomsday who, although no longer with us physically, are always with us in spirit, especially on Bloomsday, a festival they celebrated with gusto. We will sing some songs, including Anna Liffey, in their honour.
**************************************************
Dressing up in your Edwardian duds with bonnet or boater is encouraged!
**************************************************
The
Bloomsday Cast
will include
Actors
Joe Allen; Pip Dwyer; Des Ellis; Daniel Giverin; Richard Harte; Catherine Hughes; Kevin Kennedy; David Mackett; Billie Jean Shannon; Catherine Vaneri
Musicians
Daev Clysdale; Jacob McCauley; Jennifer Melvin
Our generous
BLOOMSDAY SPONSORS
to whom we owe a huge debt of gratitude are
Owen McCreery
Philip Turk
Donald Guinn
Beverly Lewis-Harris
Irish Canadian Cultural Society
Dr. Joe Allen
Louise Bazett-Jones
Larry French
Judith Leach
Margaret McKinnon
Anne Molina
Howard Moran
Colm & Betty O'Brien
Bobbi Speck
John Walmsley

We would like to acknowledge an ongoing debt to
FRED KIRCHNER
for the decades of commitment, hard work and invaluable support he devoted to keeping the Floozie in the Jacuzzi afloat.
Go raibh mile maith agat a chara dílis!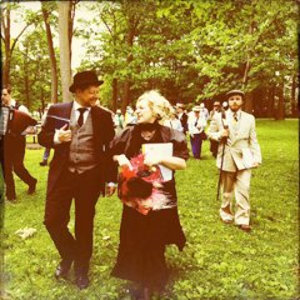 Photo: Shelagh Hughes
ReJoyce!
Framed photo top: Lionel Simmons





Thank You! Thank You! Thank You!

A hearty go raibh maith agaibh to our cast, sponsors, and especially to our audience for another fabulous

BLOOMSDAY 2018!




A rollicking version of 'Molly Malone' kicked off our 'Kew Gardens Odyssey' on a beautifully mild Saturday. Led by our fabulous band, we transformed Toronto into Dublin 1904 with readings and songs from our extraordinary cast, including new company members Catherine Vaneri and Pip Dwyer.

For our Bloomsday Brunch, we christened a new 'Davy Byrne's' – the Gastro Pub, and we thank chef Lorenzo for his special Ulysses-inspired menu. Happy voices could be heard tumbling out into the street as all joined in our Bloomsday singalong, led by maestro Kevin Kennedy and our own Marion Bloom, Catherine Hughes.

See you all again in 2019 as the Odyssey continues!





WHAT IS BLOOMSDAY?
Literary Holyday
Bloomsday is an international Literary Holyday celebrating James Joyce's seminal novel Ulysses in which Leopold Bloom, a Dublin Jew, and a cityful of other colourful characters go about their lives in the city of Dublin on June 16th, 1904
A romantic rendezvous
Joyce chose this particular date for Bloom's perambulations as a tribute to his wife and muse, Nora Barnacle, whom he first encountered outside Trinity College, close to Finn's Hotel where she worked as a chambermaid. Although initially mistaking him for a Norwegian sailor, she agreed to meet him. June 16th marks their first romantic rendezvous.
**********************************************
BLOOM BITES
**********************************************
Claire's Bench
We're very pleased to announce that Claire's Bench has been installed. This memorial bench for our beloved Claire Crawford who was such a crucial part of Bloomsday for so many years is situated right on the Boardwalk along the Beach, just east of Balmy Beach, between Balsam and Beech. Situated under an overhanging tree looking out on a small cove and rocky area, it's the perfect spot to sit and contemplate.
Our installation ceremony in January 2011, which involved, among other rituals, a Blessing of the Bench with Bell's Whiskey (Claire's favourite) was a celebration of her wonderful spirit and indomitable life-force.
The inscription on the bench reads
For actress CLAIRE CRAWFORD GUINN who loved celebrating Bloomsday here on June 16th. From all of us who loved her. ReJoyce!
Thanks to all her friends and fans whose generosity made the installation of Claire's Bench possible.
Ar dheis lamh Dé go raibh a anam – May she rest in peace
**********************************************
Buck Mulligan says Hello!

We are proud to be twinned with the Glasthule & Sandycove Bloomsday Festival which takes place in Caveston's of Glasthule and Fitzgerald's of Sandycove, in the shadow of the Martello Tower immortalised in the opening chapter of Ulysses.
**********************************************
An Invitation

If you would like to become involved in the BLOOMSDAY FESTIVAL, please get in touch. Volunteers in all departments are most welcome.
**********************************************
Donations
**********************************************
Anna Livia Productions is a registered charity. We will happily issue a Tax Receipt for all donations received, with our gratitude.
**********************************************
IN MEMORIAM
**********************************************

We would like to dedicate

BLOOMSDAY

to the memory of the invaluable members of the Bloomsday cast who have passed away.


This year we would like to particularly remember a Bloomsday veteran actor

SEAN MULCAHY

who graced us with his inimitable style and unique talent since the firstToronto

BLOOMSDAY

celebration.

His inspiration and rendition of

The Citizen

live on!




They may not be with us in person, but their spirit lives in our hearts. We remember the Bloomsday actors

Joyce Campion
Helena Carroll
Claire Crawford
Ingrid Heming
Hugh O'Donnell


We remember our faithful Bloomsday supporters

Peggy Delaney
Diana Dennis
Peter Harris
Jane Kennedy
Joe McGann
David Wilkinson


May their generous souls rest in peace.




ReJoyce!




Bloomsday Director: Richard Harte
Bloomsday Information: 416.778.8203
Bloomsday Email: richardharte@rogers.com






Bloomsday Festival Founders: Mary Durkan & Judith McGilligan (1986)








ANNA LIVIA PRODUCTIONS

Artistic Director: Mary Durkan

Information: 416.365.7877

Email:

livia@pathcom.com